The world's leading
nonprofit organizations

use ProjectManager

Our project management software for nonprofits empowers teams by giving them the tools they need to deliver projects on time, build stakeholder trust and turn visions into realities. With an intuitive online interface, we make it easy to plan nonprofit projects like fundraising events or capital projects, track donations and expenses and manage staff and volunteers — all with one software.

Every member of the team, from board members to staff members, can log into ProjectManager and quickly plan and track their work with Gantt charts, kanban boards, task lists and other project management tools. In addition, they can use project dashboards and reports to get the information they need to have a resonating impact on their projects and communities.
All-in-one solution
Manage projects, teams, files and budgets with one online project management software for nonprofits that can be accessed from anywhere on any device.
Easy to use
No training, downloads or expensive hardware rollouts are required. Simply sign up, log in and collaborate with team members in real time from anywhere.
Total visibility
Our software offers total visibility into every project, task and team member, promoting accountability across nonprofit organizations of any size.
Tools built for nonprofit project management
Plan and schedule projects and tasks
Deliver assignments to volunteers and staff members
Track volunteers, tasks and expenses with real-time dashboards
Collaborate on projects and tasks online with unlimited file storage
Submit & approve online timesheets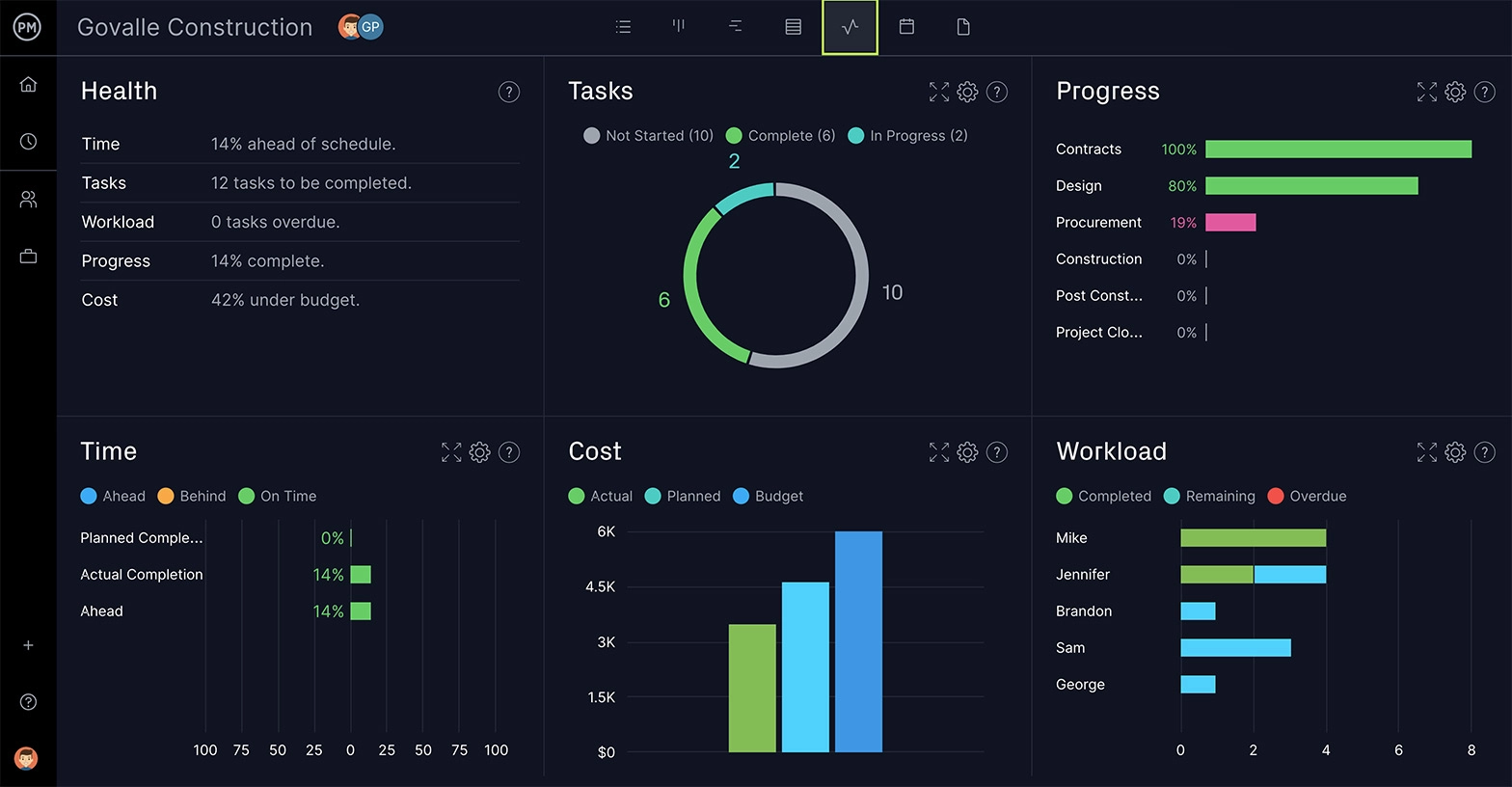 Track and share the impact of your nonprofit projects
Use dashboards and reports to track impact
Share reports with project stakeholders
Access updated information and data
Adjust milestones and timelines as needed
Stick to your project timeline and budget
Meaningful project management software for nonprofits
ProjectManager is an online project management software that helps nonprofit organizations manage their initiatives by giving them user-friendly tools to plan, schedule and track projects.
Simple planning & scheduling
Use features like Gantt charts and task lists to plan and schedule all types of non-profit projects, from events to core initiatives. Our Gantt charts are online, interactive and customizable. Create your own columns for a personalized planning experience, and attach files to tasks to keep everything localized. For short-term projects, make task lists and to-do lists to stay on top of every detail.
Everyone knows their job
Deliver assignments to anyone on the team with our task management features. Add comments, documents and deadlines so staff members know exactly what they need to accomplish. Once assigned, managers can monitor task progress with real-time dashboards and email alerts. Our project management software for nonprofits makes it easy to track several initiatives down to the task level.
Visualize your team's workload
Managing the irregular availability of volunteers in a nonprofit organization can be challenging without the right tools. Our resource management features for nonprofit project management allow you to easily distribute human and non-human resources across several projects. Team calendars show which projects your team members are assigned to, and a color scheme shows if they're over or under-allocated.
Make donations go further
Given the unpredictable nature of cash flow in philanthropic organizations, the ability to balance and manage project budgets is a must in nonprofit project management. We make it easy to set and track a budget for each project. Project expenses and hourly wages for staff are summed up and compared against the planned budget so you always know where you stand.
Better analyze your data
Our 1-click reporting tools let you make detailed reports in seconds, saving valuable time and resources. With different types of automated reports, you can quickly make a project status report, expense report or task report and present it to the board. Better reports mean better planning, smarter adjustments and more accountability for the team and the organization.
Centralized, online storage
ProjectManager has unlimited file storage so you can store important documents that nonprofit organizations require including grant proposals, call lists and tax forms. Since everything is stored in one cloud-based project management software, you'll always have access to those files when needed. You can also import files like Word documents and Excel sheets into the software to create new projects from existing files.
Trusted by 35,000+ users worldwide